Dr. Martin Luther King Academy
Welcome To

Dr.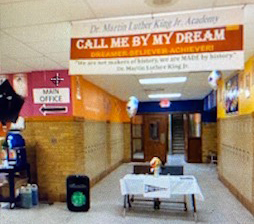 Martin Luther King Jr. Academy

Where we are making DREAMS COME TRUE!
Vision
Empowering Ferocious Scholars
Mission
Our mission is to provide a comprehensive, equitable system where all stakeholders work collaboratively to hold the success of each and every learner as the highest priority. We are committed to a climate that embraces student values, beliefs, backgrounds, and identity in a safe, welcoming and joyful environment. Through relentless urgency, we empower students with the academic and non-academic supports they deserve to reach their potential. Our scholars define their own success realizing they are the key to a future of meaningful options.
Meal Deliveries for MHPSA Students and Families