Dr. Martin Luther King Academy
Welcome To

Dr.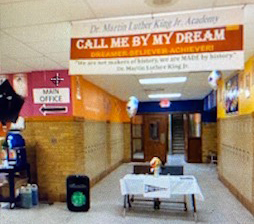 Martin Luther King Jr. Academy

Where we are making DREAMS COME TRUE!
Seven Principles of Kwanza
Unity
Self Determination
Collective Work and Responsibility
Cooperative Economics
Purpose
Creativity
Faith
District Attendance and Truancy Guidelines
Click on the link for important information on attendance and truancy guidelines and steps for ECSE - 6th grade.
Truancy Guidelines

School COVID Quarantine Chart
Click on the link to view the Muskegon County School COVID Quarantine Chart in the classroom to learn the proper steps and time frame of quarantine.

Click on the link below for IMPORTANT Parent Notification about pesticide application
PARENT NOTIFICATION
Dates to Remember

May 5 - M-Step Testing (5th-Science)
May 9-13 - NWEA Testing (all grades-Math)
May 12 - M-Step Testing (5th-Social Studies)
May 17 & 18 - Acadience Testing (all grades -Reading)
May 6 & 20 - Bookmobile visits
May 25 - Spring Fling 5-7 pm
May 27 - NO SCHOOL for students (staff PD)
May 30 - Memorial Day (No School)
Spring Fling Flyer link


Chromebook
/ IPad Returns
If you are not a Livestream student and have a chromebook and/or Ipad at home issued to you by the school, we need those returned, . We do have a list of issued devices. You can return those to the main office at school.


BUS STOP INFORMATION
Click on the link below for the bus stop locations with pick-up and drop-off times for the 21-22 school year
Bus Stop Schedule

Vision
Empowering Ferocious Scholars
Mission
Our mission is to provide a comprehensive, equitable system where all stakeholders work collaboratively to hold the success of each and every learner as the highest priority. We are committed to a climate that embraces student values, beliefs, backgrounds, and identity in a safe, welcoming and joyful environment. Through relentless urgency, we empower students with the academic and non-academic supports they deserve to reach their potential. Our scholars define their own success realizing they are the key to a future of meaningful options.
Meal Deliveries for MHPSA Students and Families