Dr. Martin Luther King Academy
Welcome To

Dr.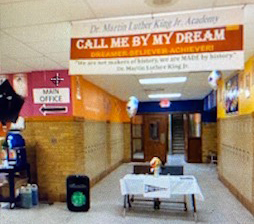 Martin Luther King Jr. Academy

Where we are making DREAMS COME TRUE!
District Attendance and Truancy Guidelines
Click on the link for important information on attendance and truancy guidelines and steps for ECSE - 6th grade.
Truancy Guidelines

Fall Benchmark Testing
Benchmark testing begins the week of September 13th through the end of the month. Students will be tested in Math and Reading. Please make sure they are test ready.
First Day of School
August 30, 2021
8:00 am - 3:20 pm
Join us for the first day FIST BUMP at 8 am to welcome our students back!!


BUS STOP INFORMATION
Click on the link below for the bus stop locations with pick-up and drop-off times for the 21-22 school year
Bus Stop Schedule


LABOR DAY HOLIDAY
No school on Friday, September 3rd and Monday, September 6th
Students return on Tuesday, September 7


OPEN HOUSE / Meet and Greet
Tuesday, September 7, 2021
6-8 pm
Click here FLYER for more information




Vision
Empowering Ferocious Scholars
Mission
Our mission is to provide a comprehensive, equitable system where all stakeholders work collaboratively to hold the success of each and every learner as the highest priority. We are committed to a climate that embraces student values, beliefs, backgrounds, and identity in a safe, welcoming and joyful environment. Through relentless urgency, we empower students with the academic and non-academic supports they deserve to reach their potential. Our scholars define their own success realizing they are the key to a future of meaningful options.
Meal Deliveries for MHPSA Students and Families