Dr. Martin Luther King Academy
Welcome To

Dr.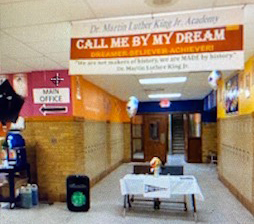 Martin Luther King Jr. Academy

Where we are making DREAMS COME TRUE!
Parent Teacher Conferences
Parent/Teacher conferences are scheduled for Thursday, January 14, 2021 from 1-7 p.m. Conferences will be held virtually. Your child's teacher will contact to set up a conference time.
Martin Luther King Holiday
There will be NO SCHOOL on Monday, January 18th in observance of the Martin Luther King holiday. Class will resume on Tuesday, January 19th at the regular scheduled class time.
Assessment Testing
Assessment testing is scheduled for January 11-29, 2021. Please make sure your child is prepared and ready. Below are a few things you can do to help ensure your child does their very Best on the test:

Make sure their chrome book is fully charged
Provide a quiet place to work with no distractions
Get plenty of rest
Eat breakfast to nurish the brain
Encourage he/she to do their best on the test and to take their time.

Vision
Empowering Ferocious Scholars
Mission
Our mission is to provide a comprehensive, equitable system where all stakeholders work collaboratively to hold the success of each and every learner as the highest priority. We are committed to a climate that embraces student values, beliefs, backgrounds, and identity in a safe, welcoming and joyful environment. Through relentless urgency, we empower students with the academic and non-academic supports they deserve to reach their potential. Our scholars define their own success realizing they are the key to a future of meaningful options.
Meal Deliveries for MHPSA Students and Families